FleetAdmin Costs can be synced with Xero to display paid Revenue & approved Purchase Order & Billing information on individual Assets, straight into FleetAdmin. Displaying a Profit and Loss on each Asset. It is as easy as linking Xero, Xero Tracking Category 1 & TFO Asset Unit ID numbers.
Linking Xero Tracking Categories
In Xero, Create Tracking Category 1 - Please advise TFO via support@thefleetoffice.com.au the Tracking Category Name. TFO will need to create this link in the backend.
In Xero Create Tracking Category Options - These are your Asset Unit ID in FleetAdmin- The Category options & the Unit ID in TFO must match to enable the syncing of data.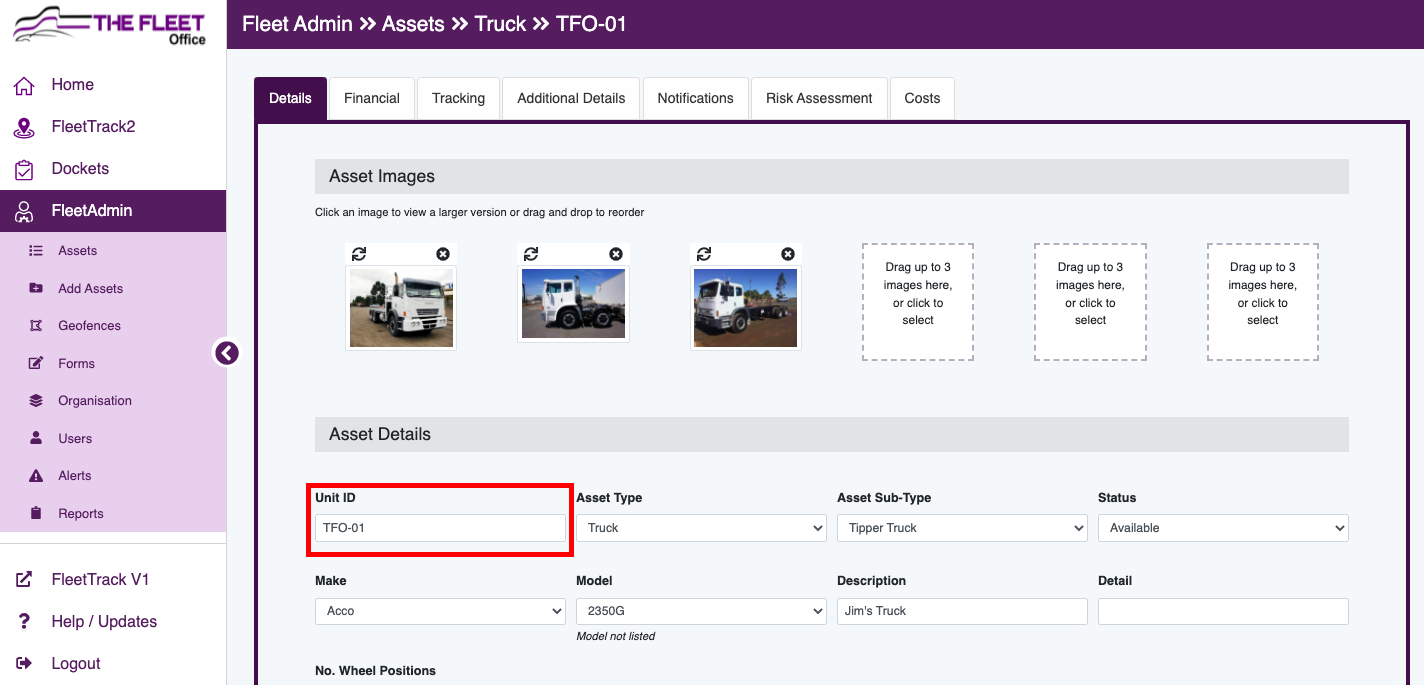 Only Assets listed in Xero Category Options will sync with FleetAdmin Costs.
Using the example below, only Assets TFO-01 through to TFO-04 will collect data in Costs. The remaining Assets listed in TFO Admin will not sync. Xero cannot create Assets in FleetAdmin, nor can FleetAdmin create Category options in Xero. These must be added in manually in Xero.
Initial Connection - Xero & The Fleet Office
Allow The Fleet Office to connect to Xero
Once login is confirmed, you will be taken back to The Fleet Office
Regular Xero Integration
Go to Costs page
Click on Show Xero Tools
Click on Sync Now to import data from Xero
This will update data for all linked Assets
Interpreting Xero Cost data
| | |
| --- | --- |
| Estimated | Are estimated costs added in FleetMaint - See below |
| Committed | Are Approved Purchase Orders & Bills in Xero |
| Actual | Are Paid Bills in Xero |
| Revenue | Is Paid Invoices in Xero |
| | |
| Payments | Detail lines with a Type I are approved Bills & lines with a P are approved Purchase Orders |
| Revenue | Detail lines for all Paid Tax Invoices |
| Estimated Costs | Detail lines for all estimates with Work Order number listed |
Use the headings to filter information as required
Information will update as it progresses through Xero & when the Sync Now button in The Fleet Office is triggered.
Enter Estimated Costs in FleetMaint
If you have FleetMaint enabled, you have the ability to enter Estimated Costs via Work Items
Go to FleetMaint
Find the correct Work Order
Open the Work Item
Enter the estimated amount in Cost Estimate
The Work Order will add all Work Item estimates together