Work Orders can be generated several different ways. From Auto Service Schedules, via an issue identified during a Prestart, by a date driven Notification and from Asset View.
A work order contains information about items that are required to be completed on the Asset as well as information regarding staff assignments, estimated work duration, and scheduled date.
The Work Order will display User Details & current Asset Details & Meters. If any photos have been added via a Prestart they will appear here. Clicking on the arrow within the image allows for an Image or PDF to be attached.
If there are other open Work Orders assigned to the Asset, they will be highlighted in red.
Work Order Details
Job Description - Will autogenerate with Work Order - This can be edited
Job Priority - Use these to filter & schedule Work Orders - See Statistics
Root Cause - Use these to filter & report on Work Orders - See Statistics
Scheduled Start Date & Time - This is one place you can schedule the Work Order, once saved, these will appear in the Work Order Scheduler
Fitters - Assign up to 4 fitters to each Work Order - See FleetAdmin-Users for how to add Fitters to the list
Estimated Cost - Amounts entered in Work Order Items Estimate will collate here
Estimated Duration - Enter amount of time for Work Order to be completed - The estimated time will flow through into the Work Order Scheduler
Actual Duration - Time entered into Work Order Items will collate here
Notes - Use notes for any additional information
Ensure you save any changes
Use the dropdown to Email Work Order directly
Work Order Items
These are the Items added in via Auto service schedule, Prestart issues or Notifications
Click to enter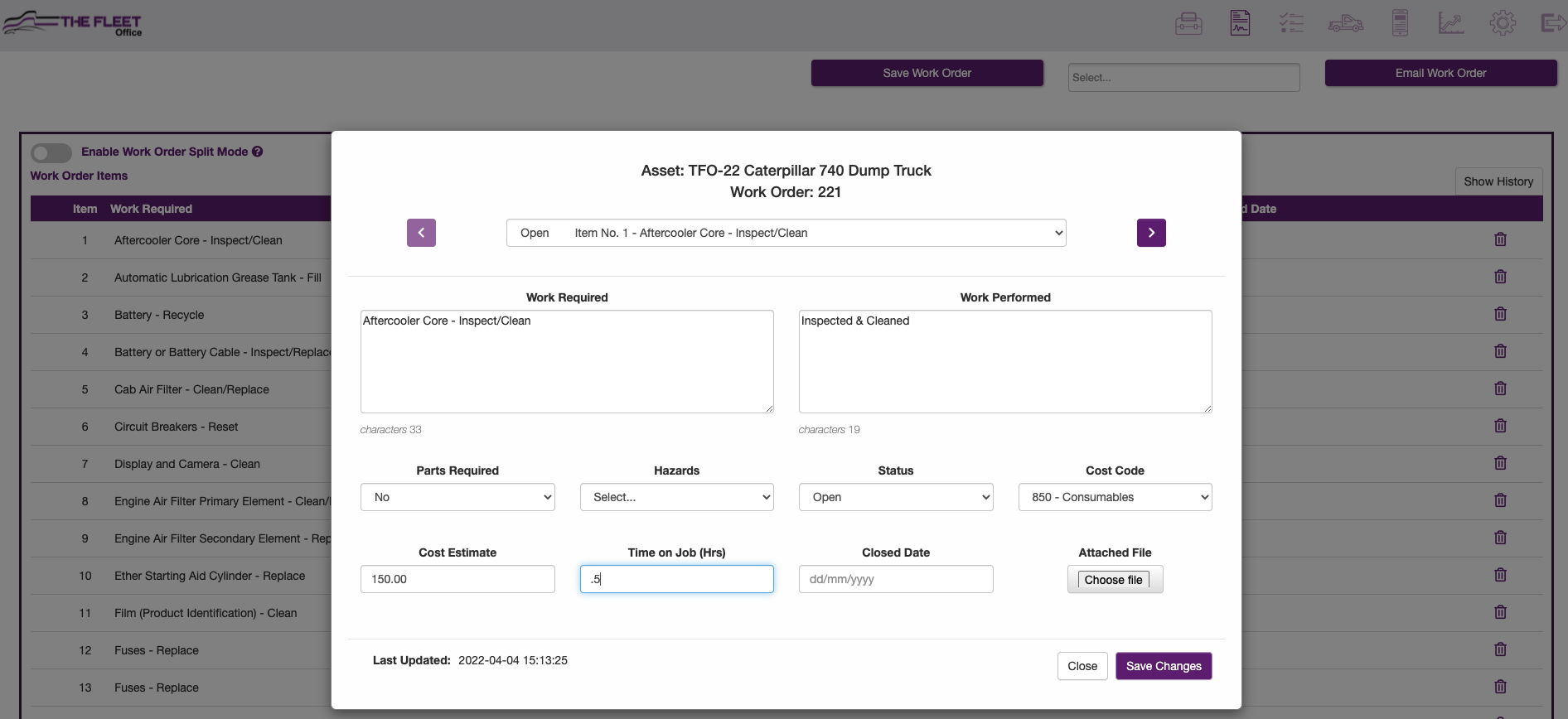 Work Performed - Enter work performed - Hint: If using a a tablet you can use voice to text to enter this information
Use drop downs to enter information. Attach file to store warranty or invoice details if required
Enable Work Order Split Mode
it is possible to split out individual items of a Work Order if they are not yet completed, if you are waiting on parts for example. Allowing you to close the existing larger Work Order.

Slide Enable Work Order Split Mode
Click on the outstanding items
Click on Generate Work Order
This will create a Work Order for these items allowing you to close original Work Order
Close Work Orders
Scroll to the bottom of the Work Order
Change date
Click on Close all Work Items