Tracking details will display the tracking information for the Asset. Use Tracking Details as your first point of trouble shooting if you do not have a visual on FleetTrack2.
Use this page to Update Meters on both tracked & untracked Assets.
Within this article you will find:
Go to FleetAdmin
Select required Asset
Click on the Tracking tab
Update Meters on Tracked Assets
Please Note: To Update Meters the User must have the FleetCentre: Update Asset Hrs/Kms permissions in User Access Control
Enter in Hours or Kms update
Select Reset from option
Click on Update Meters
The Meter History will display underneath
Please Note: If using FleetMaint, meters can also be updated in FleetMaint - Asset View
Tracker Information
If it is a tracked Asset, you will see the tracker number, installed date, the current hours, odometer and location.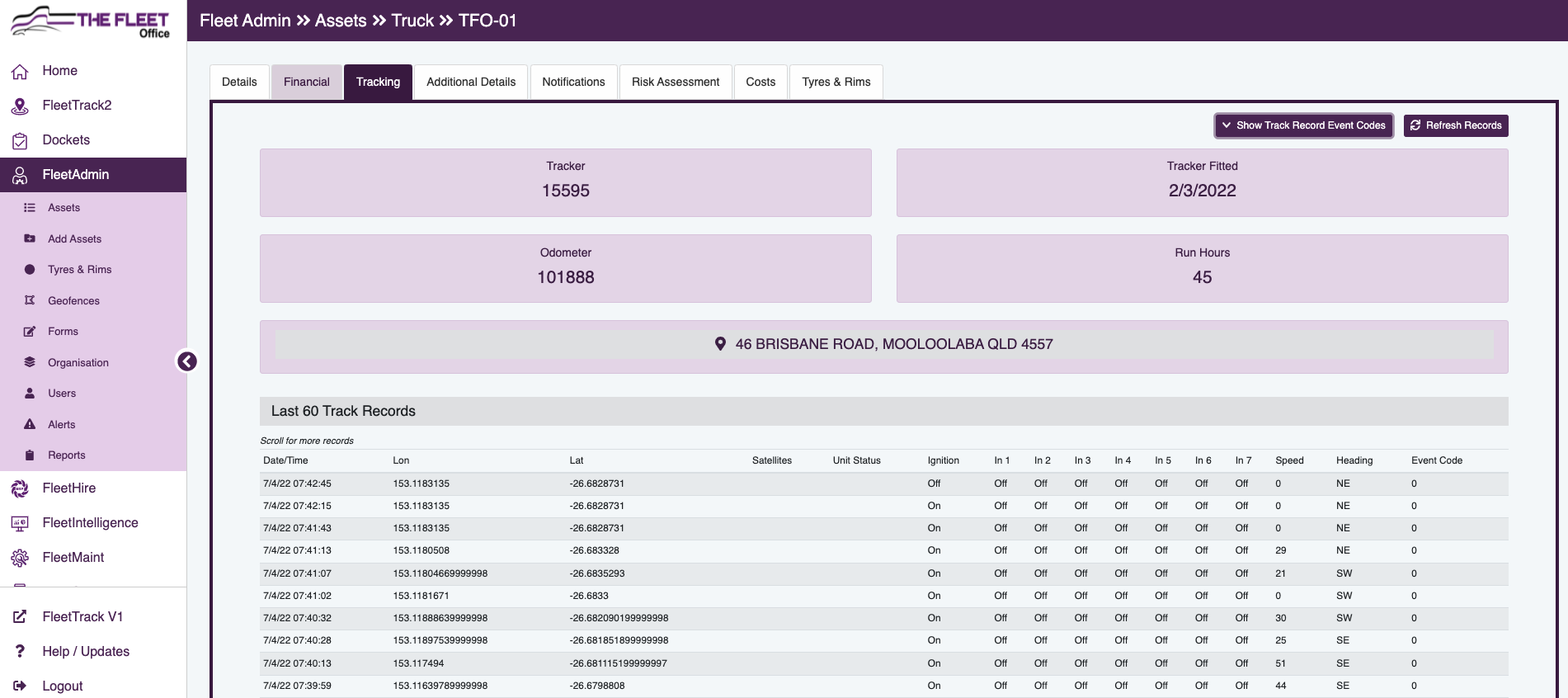 Last 60 Track Records
This will show the last 60 packets of data that has been received from the Tracker. This data includes the time, latitude and longitude, satellite connection, speed & event codes. Click on Show Track Record Event Codes at the top of the screen to explain common event codes & meanings.
External Trackers
Assets with External trackers linked will display as below:

External tracking data is limited to one packet of data approximately every hour. Collecting last known location, cumulative operating & non operating hours & cumulative distance travelled.
Update Meters on UnTracked Assets
If the Asset is Untracked, the page will display current hours & Kms. It is possible to update Meters manually.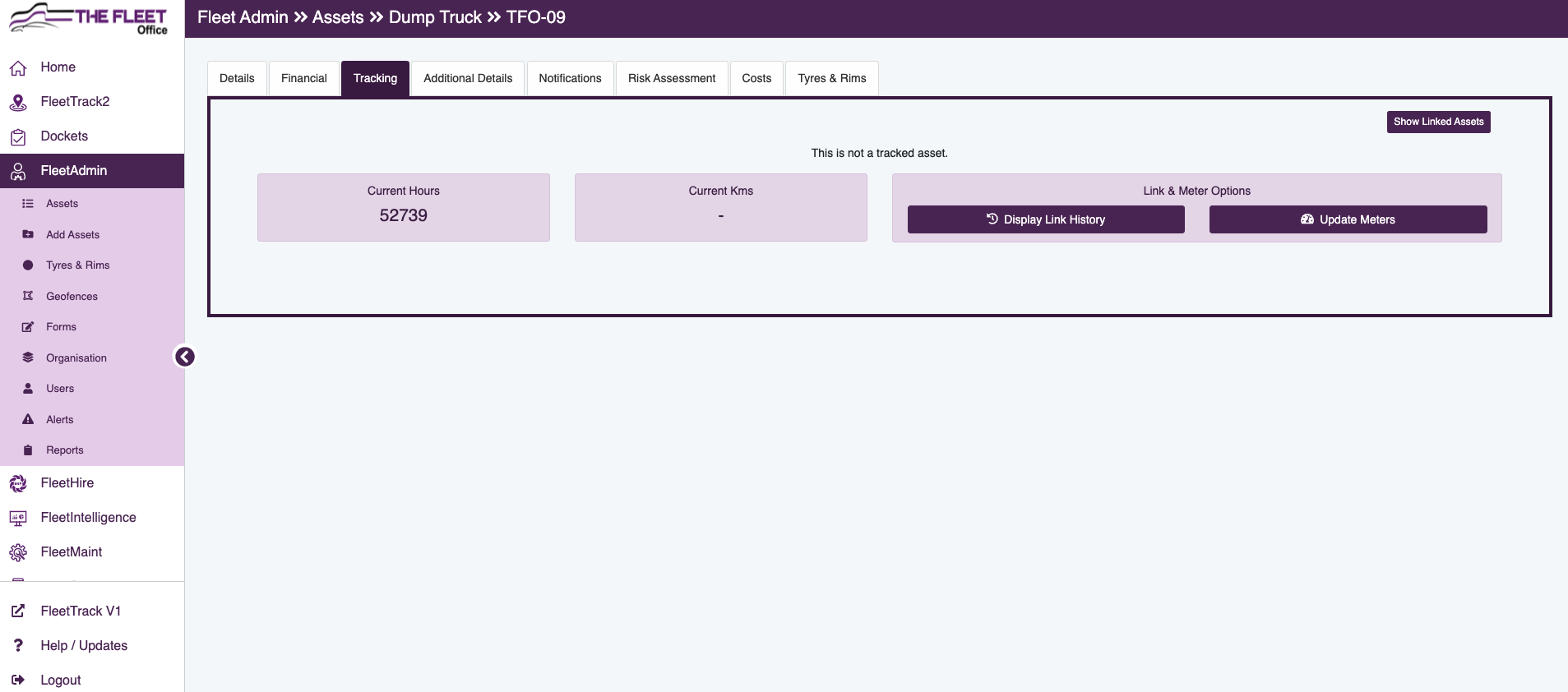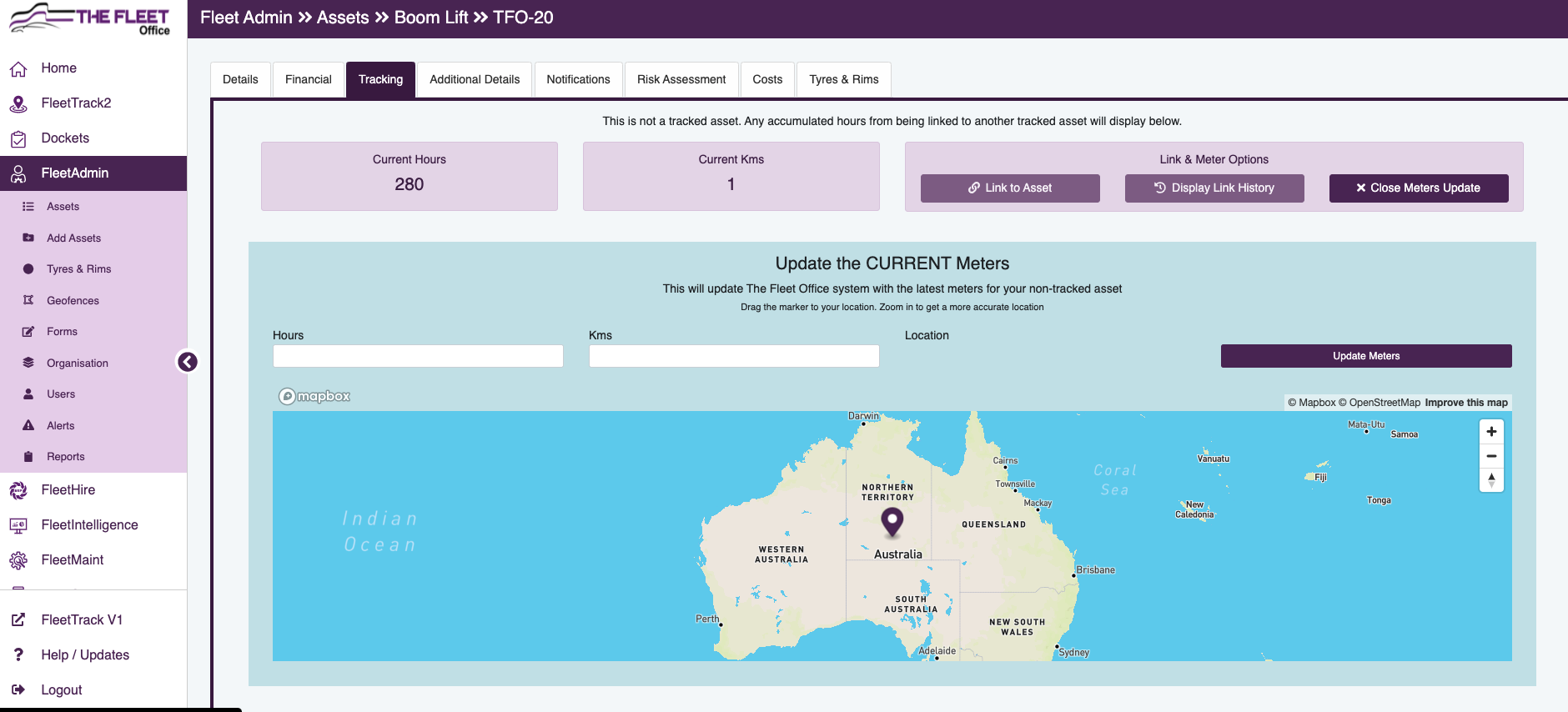 Update Hours & Kms
Drag the pin to Assets current location
Click on Update Meters
Linking Assets
It is possible to link Assets. For example this may be used to link a Truck & Trailer or an Excavator & Bucket
Go to the Asset you want to link
If it is an Asset that you want to track Hours or Kms, Update meters as above with its current
Click Link to Asset
From the dropdown, choose the Parent Asset you want to link to. For example an Excavator would be the Parent Asset to the Bucket
Click Submit
Linked Assets will accumulate hours from their parent nightly. Accumulated hours will display from the linked date.
Click on Unlink Asset to remove link