The Additional Details tab is where you can store all other information for a particular Asset that is not a default in FleetAdmin. You can select one field to be displayed on the Asset Details page.
Enter a New Additional Detail
Go to FleetAdmin
Assets
Select Asset
Additional Details
Click on Create
Pick an Additional Detail
Once you have created your fields, you can select them using the Pick an Additional Detail drop down list. These option will display for every Asset.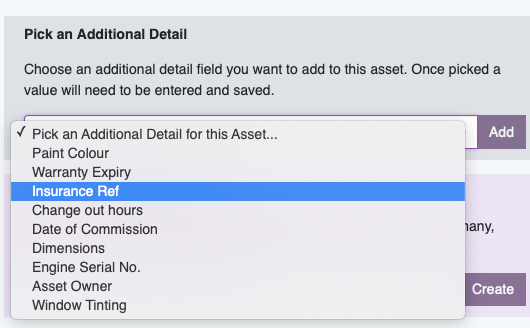 This will display the selected details at the top of the page allowing you to enter the value you would like assigned. You can save or delete the item by using the buttons to the right of the screen.
Remove an Additional Detail
If you no longer require the item, there is an option to remove it from your list. This can be done under the remove an Additional Detail section.
Add an Additional field in Asset Details page
To add a field to your Asset Details page, select the item from the drop down list in Set an additional field for asset list section.
The Asset Details tab will now show the additional field.
Export the Additional Details & added values for your Fleet
Go to FleetAdmin
Assets
Scroll to the bottom of the Asset List
Click on Include Additional Details
Then Export Asset list to CSV